Texas Politics – A Conundrum of Confusion and Complexity
EDIT @ 10:33:58 02-06-14 I had a great conversation with Sen. John Carona this AM and as far as I am concerned I still endorse him for reelection and I am convinced that he is the BEST choice we can make for this district of North Texas.
**********************************
I am NOT stupid or naïve, I know that politics can be a very nasty game and I know that accusations can fly at a furious pace, it's called *mud slinging*. Some may be true, some may be out and out lies and then there's those that make you shake your head and wonder; what the hell?
The first thing I have to say is this; our Texas State Senator was Dr. Bob Deuell. Bob was our Senator for a long time, and he is one of the *good guys*. We lost Sen. Deuell a while back; nothing happened to him, no disaster or anything, we lost Bob Deuell due to Texas redistricting, an attempt to *level the playing field* for minority voters I believe. In other words; gerrymandering.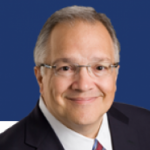 On Jan.31, 2014 I used this page, John Carona for Texas Senate, District 16 to endorse Sen. John Carona for reelection to the Texas State Senate.
I felt that Sen. Carona was the best choice, especially given that we didn't pick him as our representative to begin with. I will clarify further in this post, suffice to say I have NO faith in this Don Huffines character.
I received a personal *thank you* from Sen. Carona, "John Carona Thank you Fred Witzell – your support is greatly appreciated!" that can be read on my Facebook home page.
Yesterday one of my very astute readers pointed out to me that rumors were floating about an instance where Sen. Carona had stood with another Texas State Senator, Royce West (D) to name a highway for Barack Hussein Obama.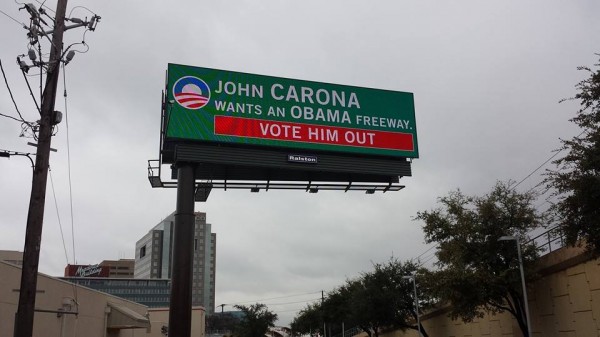 Dallas real estate developer Don Huffines says Carona's too liberal and he offers voters in the North Texas district a choice between "a liberal Republican and a true conservative."

Huffines helped form a political super-PAC that supported Ron Paul in last year's presidential race. The committee spent more than $400,000 promoting Paul and criticizing Mitt Romney and Newt Gingrich in the 2012 GOP primary.

"I believe in limited government, in cutting spending so we can decrease taxes. I believe in the traditional family," Huffines said in an interview Monday.

He labeled Carona, who has held his Senate seat for nearly two decades, as a "career politician" who is "out of touch with voters in his district."

He cited a 2009 bill in the Texas Legislature to rename a portion of Interstate 20 for Barack Obama. Carona and Democratic Sen. Royce West co-sponsored the measure. SOURCE
I have a lot of problems with Don Huffines, not the least of which is his being a staunch supporter of Ron Paul. That sets off a lot of *alarm bells* for me, so I sent this message to Sen. Carona asking for some clarification:
Senator; I have a serious issue, maybe. Some of my blog readers are emailing ME asking why I would support a guy that wants, or wanted to name a highway for Barack Hussein Obama. I received emails on this today so I did an on-line search and found a lot of information but mostly from blogs, left leaning blogs, and some of it is several years old. Can you, would you be willing to shed some light on this? I would love to put this matter to rest if at all possible.
I have NOT heard back from Sen. Carona or his staff, and I did send communication to the Senator at his email address listed for *contact* on his web page.
So, here I sit, wondering why in the hell I even bother with politics. It seems like it's just one issue after another, none of them good, and that leaves me facing quite the conundrum.
How do I, as a principled Conservative, support a man that wants, or *wanted* to honor Barack Hussein Obama with a highway, or support a man that it is a staunch Ron Paul supporter? And for those that may not know, I detest Ron Paul and his supporters.
As it stands at this time I see one as a RINO (Republican In Name Only) and the other as a Paultard.
This makes me want to move across the lake to Rockwall so I can have Sen. Bob Deuell back as MY State Senator.