Race expected to play key role in Louisiana elections
WASHINGTON – Louisiana's Senate race likely will come down to black and white.

"It always does in Louisiana,'' said Albert Samuels, a political scientist at Southern University in Baton Rouge. "To some degree, we try to be polite about this. But there's an underlying racial narrative to this whole race.''

Heavy turnout among black voters is seen as crucial to Democratic Sen. Mary Landrieu's hopes for a third term.

Blacks make up 32 percent of the state's population and 31 percent of registered voters. Historically, black voters tend to support Democrats. In 2008, when Landrieu last ran for re-election and President Barack Obama was on the ballot, 66 percent of registered black voters cast ballots, according to census data. SOURCE
Have you ever wondered WHY Blacks consistently vote for Democratic candidates? I know I have.
Every time an issue comes before the public eye, if it involves Blacks or voting, the Dems and their spokesmen, Al $harpton and Je$$ie Jack$on, show up with a whole stack of brand new RACE CARDS to hand out, you see, everything with the Dems is about RACE.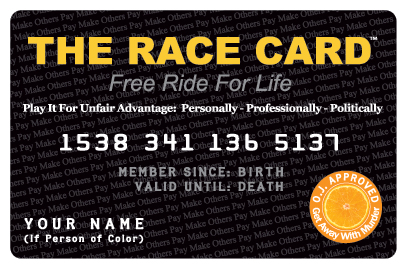 But according to the Dems it's the GOP and its members that are the racists. So, figure this one out.
Fact: The Republican Party was founded primarily to oppose slavery, and Republicans eventually abolished slavery. The Democratic Party fought them and tried to maintain and expand slavery.

Fact: During the Civil War era, the "Radical Republicans" were given that name because they wanted to not only end slavery but also to endow the freed slaves with full citizenship, equality, and rights.

Fact: Lincoln's Vice President, Andrew Johnson, was a strongly pro-Union (but also pro-slavery) Democrat who had been chosen as a compromise running mate to attract Democrats. After Lincoln was assassinated, Johnson thwarted Republican efforts in Congress to recognize the civil rights of the freed slaves, and Southern Democrats continued to thwart any such efforts for nearly a century.

Fact: The Ku Klux Klan was originally and primarily an arm of the Southern Democratic Party, and its mission was to terrorize freed slaves and Republicans who sympathized with them.

Fact: In the 1950s, President Eisenhower, a Republican, integrated the US military and promoted civil rights for minorities. Eisenhower pushed through the Civil Rights Act of 1957. One of Eisenhower's primary political opponents on civil rights prior to 1957 was none other than Lyndon Johnson, then the Democratic Senate Majority Leader. LBJ had voted the straight segregationist line until he changed his position and supported the 1957 Act. Continue reading →