Cartoon contest organizer known for inflammatory rhetoric
NEW YORK (AP) — The Prophet Muhammad cartoon contest that exploded in violence over the weekend in Texas was organized by Pamela Geller, a New Yorker who rails against Islam with such ferocity that one of the nation's top civil rights groups lists her in its "extremist files."

WHO IS PAMELA GELLER?

Geller, 56, is head of an organization called the American Freedom Defense Initiative, whose mission, according to tax records, is to act against "capitulation to the global jihad and Islamic supremacism."

Through websites, books, ad campaigns and public events, Geller has been warning for years about the "Islamic machine" that she says threatens to destroy the U.S. SOURCE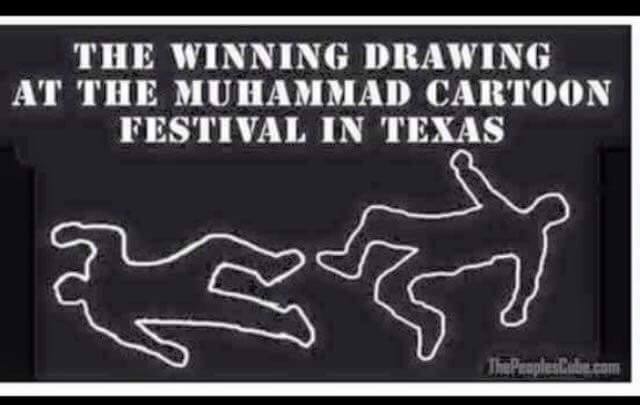 Let me clear something up and stop some back-channel talk regarding the incident in Garland on Sunday night and my commentary about its sponsor.
Pamela Geller has every right to be as stupid, antagonistic, arrogant, manipulative and self-serving as she wants to be in her persecution of Islam, I have no issue with that in and of itself, as a matter of fact, there are *some* points that I agree with 100%, I just don't like Pam Geller, it's a personal thing, and I don't like the way she took herself to prominence on the national stage, but that too is her right, an action to answer for at some time in the future, but she has the RIGHT to say whatever she wants.
That said; I too have the same right to FREE SPEECH, to some degree on Facebook and other social media and completely on MY blog.
So, why is it that all these *hot-damn* Geller supporters want ME to shut up and not speak MY mind too?
F'ing hypocrites.
Let me make a few things clear for those not familiar with me and this blog; I detest Islam and every last member of that cult of hate, persecution and murder.
I didn't declare war on Islam, they declared war on me, you and everyone else not of their persuasion. 
I believe that if we're going to fight a war with Islam, well, by God, let's fight a war and get on with it. We don't need a histrionic, headline worshipping Drama Queen starting little *pissing contests* and then running back home to New York. If she wants to start the war in Texas she needs to STAY in Texas and fight the damned battle. Continue reading →