AP Sources: Hagel resigning as Defense secretary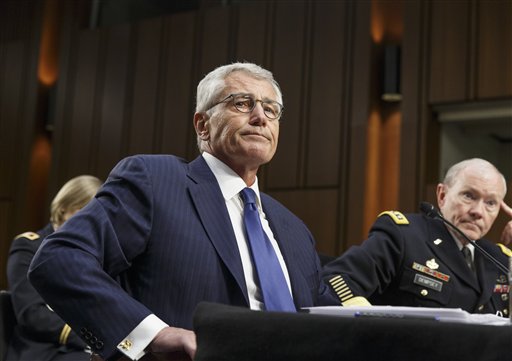 WASHINGTON (AP) — Defense Secretary Chuck Hagel is stepping down from President Barack Obama's Cabinet, senior administration officials said Monday, following a tenure in which he has struggled to break through the White House's insular foreign policy team.

Hagel is the first senior Obama adviser to leave the administration following the sweeping losses for Obama's party in the midterm elections. It also comes as the president's national security team has been battered by multiple foreign policy crises, include the rise of the Islamic State militants in Iraq and Syria.

A senior defense official said that Hagel submitted his resignation letter to Obama on Monday morning and the president accepted it. Hagel agreed to remain in office until his successor is confirmed by the Senate, the official said.

The official said both Hagel and Obama "determined that it was time for new leadership in the Pentagon," adding that they had been discussing the matter over a period of several weeks. SOURCE
Chuck Hagel is not, at least in MY opinion, the best Secretary of Defense we could have had but he is most likely one of the best people serving in the Obama regime.
Does anyone besides me see a *rats and sinking ship* scenario shaping up?
Obama has canned so many Senior Military Officers, ones rumored to have made no secret of their opinions of Obama and his stupidity on the world stage, one now has to wonder; what in the world is left to choose from now that Obama has purged the Military with his own version of Night of the Long Knives.
Hagel is a Republican who served as senator from Nebraska and became a critic of U.S. involvement in Iraq. Obama nominated him to succeed Leon Panetta as Defense Secretary in his second term.

Hagel served in the Vietnam War and received two Purple Hearts.